How Paint Colors Impact a Home's Value
Choosing your home's interior paint colors is important for homeowners
It isn't uncommon for people to always be looking to improve their home while also improving its value. Both of these things can be accomplished by simply updating the home's interior paint.
A Fresh Coat of Paint Will Always Increase The Value of Your Home
On last month's blog, we discussed how the home's exterior paint can boost your home's value. But the colors you use in the interior of your home will also impact the value of your home. Not only the colors you use in each room play a role, but a fresh coat of paint will also add brownie points.
In addition to applying a fresh coat of paint, always use a finish, such as a matte finish. This will make the walls look more polished. A new paint job with a matte finish will hide all of those small imperfections on the walls such as any scuffs or marks.
Also, a new coat of paint will give home buyers a clean slate when they move in, especially when you are choosing the right colors. Colors evoke emotions and when the right colors are used, it can work wonders in a home.
Which Paint Colors Will Increase Your Home's Value?
The right color of paint can completely transform your home and improve the overall look and ambience of the room.
Zillow did some research on which colors home buyers are drawn to in each room. For example, they found that home buyers would pay 1.6 percent more for bathrooms with light blue walls.
This is because people tend to be attracted to bathrooms with clean colors. Bathrooms with walls painted light gray, light blue, or even light green will improve your home's value and will also improve the entire bathroom.
As for the bedrooms, darker colors are more attracting. In fact, it was found that home buyers claimed to pay nearly $1,500 more for dark blue walls in a bedroom. People are looking for bedrooms to be more cozy and relaxed. Darker colors such as a deep, dark blue can get the job done.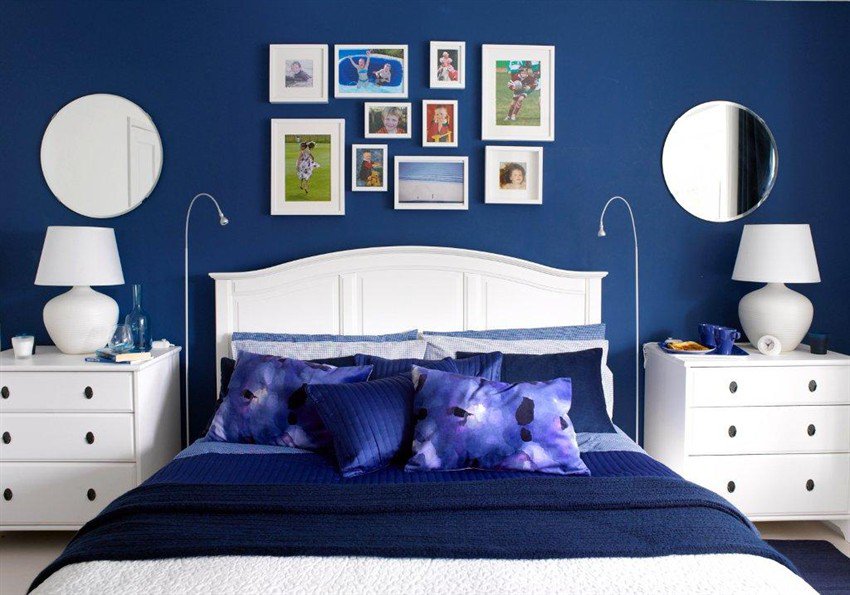 Photo by Decoist.com
When it comes to the living room, it is often best to stick to neutral tones that make it easy to adjust to any décor. These colors can be light grays, light browns, or even light greens.
Ready to update your home's interior paint? Call up East Valley Painters to schedule a consultation today. We use only professional-grade paint and techniques. We do all of the prep work and do get the job done right the first time. Just click below to contact us or to learn more about our painting company in Gilbert. East Valley Painters, serving Sun Lakes, Ahwatukee, Gilbert, Chandler, and east valley cities for the past 30 years.