Paint Colors for Small Spaces in Your Home
The right paint color can transform small areas in your home
Don't have a big living room? Or maybe even a tiny bathroom and kitchen? Using the right paint colors can help make these rooms appear larger and welcoming. The first rule of thumb when dealing with smaller spaces like these? Avoid bright paint colors.
Small areas of your home can appear bigger with the right color of paint
Painting your walls white can seem boring, but it can actually bring the magic. The color white for your small living room walls can increase brightness and give the effect that the walls are visually moving away to make the room appear slightly bigger.
Afraid to use the color white on your living room walls? Go with more of a taupe shape. This still enlarges the space and gives off that calming and welcoming feel, double bonus! But it isn't as scary as pure white.
Or you can even go with cream, ivory, or beige. Pretty much any neutral color will do the trick.
Small kitchen or bathroom? That is often the case, but is an easy fix!
Again, you can never go wrong using neutral paint colors in a small space. But why not be a little more adventurous and add an accent wall?
This is where you can get a little more fun with those paint colors. Like using a soft orange or pale green. These are vibrant colors that aren't too intense. You can get away with these colors since they are just being used on an accent wall.
Wood stained cabinets also pair nicely with neutral colors such as beiges and creams, but then that pop of color on an accent wall adds that splash of fun to a small kitchen.
When working with a small room like a bathroom, use those soft paint colors, too. These neutral colors are relaxing and flattering to skin tones.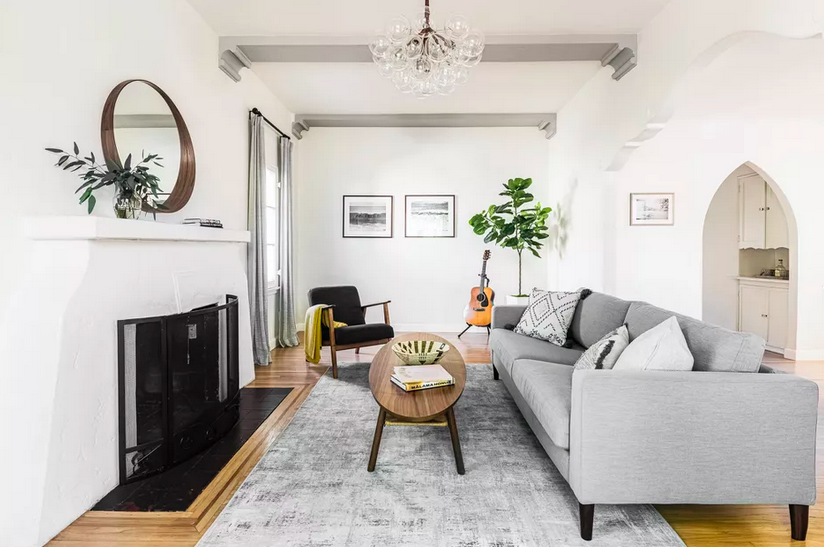 Photo by The Spruce / Christopher Lee Foto
Most bathrooms, especially small ones, don't see much natural light, so neutral whites and neutral colors like beiges and creams usually work best. If the bathroom is super tiny, even a pale yellow does the trick because it helps the room appear larger because the paint color imitates the sunlight.
One last tip to help small rooms appear bigger: Use the same color of paint on the walls and ceiling. This tricks the eye to help visually enlarge the room, so smaller rooms appear bigger than they are.
Ready to update your home's interior paint? Call up East-Valley Painters to schedule a consultation today. We use only professional-grade paint and techniques. We do all of the prep work and do get the job done right the first time. Just click below to contact us or to learn more about our painting company. East Valley Painters, serving Sun Lakes, Ahwatukee, Gilbert, Chandler, and east valley cities for the past 30 years.