Top Paint Colors For Fall 2022
The right color can add a touch of fall to your home

Fall 2022 is almost upon us and if you are thinking of adding fall colors to your home,  we have the perfect colors to represent fall that would be ideal to paint the walls in your home. These colors not only represent fall perfectly but also go with all of that fall décor as well as match décor year-round.
Fall colors are serene and make you think of those cozy flannels and crisp fall leaves. So grab that pumpkin spice and check out these delicate greens and earthy tones.
Mix Those Shades of Green
You can't do fall without the color green! Shades of green can do well in the family rooms and living rooms. Green gives off those mystical forest-like feels and is a soothing and enlightening color. Don't be afraid to go bold and deep with a fall green shade like a hunter green similar to Behr's Vine Leaf shade. This green pairs well with earthy tones that we will get into in the next section.
Or even Benjamin Moore's Lafayette Green shade, which is a very dramatic green. The bolder the green, the better. If you are looking for a more deep earthy green for an accent wall. There is Sherwin Williams' Secret Garden or Benjamin Moore's Tate Olive, which is a little more of a classic shade of olive green.
Use an Abundance of Earthy Tones with Deep Reds and Oranges
When you think of fall, green isn't the only color that comes to mind. Fall colors always consist of beige shades. These colors are comfy and cozy, which also pair well with those fall shades of greens. The right rich taupe and golden browns can radiate just the right amount of depth and warmth.
Sherwin Williams' Java is a medium-dark shade of brown and is one of the best shades that represent fall. For a less dramatic brown, Behr's Pure Earth is a great fall color for a wall in any room. The popular neutral shade is known to warm a room right up.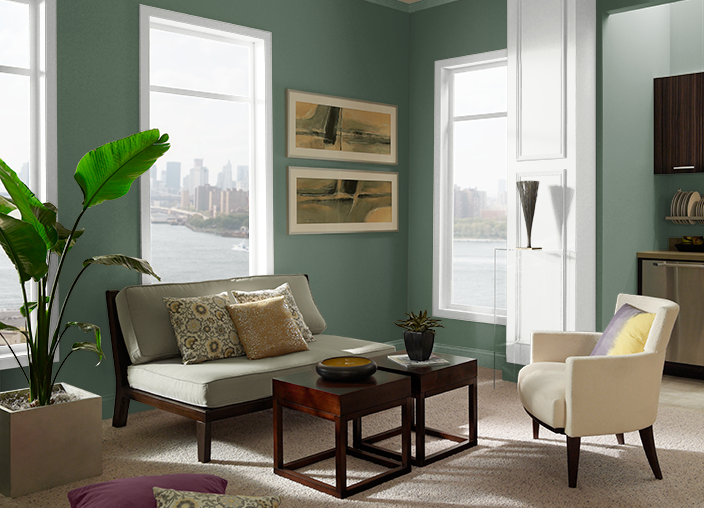 Photo by Behr
To add a splash of color, rich reds and oranges go well with the fall beiges and deep greens. Benjamin Moore's Class Burgundy is very edgy and was inspired by historic landmarks. The color is the true definition of burgundy. It is the ideal color for a full-on burgundy accent wall.
For an amazing orangish color to go in the kitchen (hint: accent wall) check out Benjamin Moore's Potters Clay. This dusty shade is radiant for a spot that gets sun.
With just the right amount of green, neutrals, reds, and oranges, you can transform your home's interior walls with the shades of fall.
Ready to add fall colors to your home's interior paint? Call up East-Valley Painters to schedule a consultation today. We use only professional-grade paint and techniques. We do all of the prep work and do get the job done right the first time. Just click below to contact us or to learn more about our painting company. East Valley Painters, serving Sun Lakes, Ahwatukee, Gilbert, Chandler, and east valley cities for the past 30 years.