How Your Home's Exterior Paint Boosts The Home's Value
Keeping up on your home's exterior paint is important for homeowners
Not only does your home's exterior paint boost its curb appeal, but it also boosts your home's value. If you have been debating about updating the paint of your home's exterior, now might be the right time to make the worthy investment.
 Reasons To Update Your Home's Exterior Paint
On top of increasing your home's value, a nice new coat of exterior paint can bring more benefits:
Freshen up the appearance of your home
Enhance your home's features
Strengthen your home's architectural features
Create a positive first impression of your home
Plus, a new coat of exterior paint will make you happier with your home. And when the time does come to put your home on the market, you could get thousands more for your home just because of your home's exterior paint.
Right Ways To Update Your Home's Exterior Paint
The first thing when updating your home's exterior paint is to choose the right color. The most appealing colors happen to be warm and natural colors such as greys and beiges. Keep in mind that too bold of colors can be distracting. However, dark grey and black accents pair well with the warm and natural base colors.
Next, the right type of paint needs to be used. The quality of paint always matters. Low-quality paint will leave areas that easily peel, chipped stucco, and even areas of faded paint.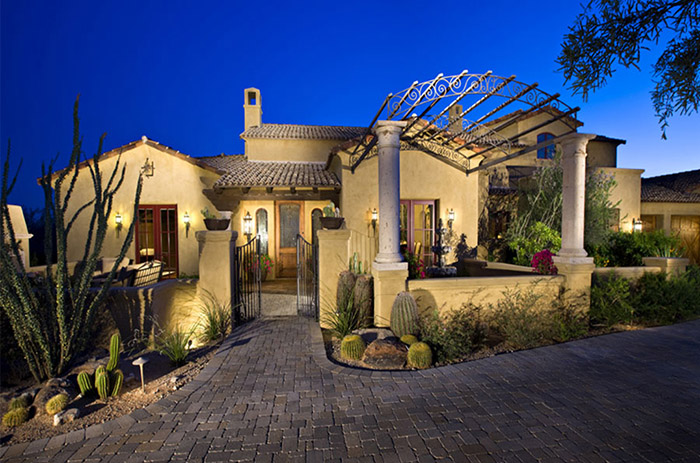 Paint has improved greatly over the years. Now, there is even weather-proof paint and UV-resistant paint. These paints will protect against the sun, wind, and dust that Arizona often sees. A low-reflective finish is also ideal for exterior homes because it is good at not showing surface imperfections.
Sherwin-Williams, Dunn Edwards, and Glidden are the most common brands used by professional painters, and as a homeowner, you really can't go wrong with any of them.
Finally, try to pick the right time to upgrade your home's exterior paint. Avoid a time of year when there might be bad weather. Luckily in Arizona, we usually see great weather year-round. Call up East-Valley Painters to schedule a consultation today. We use only professional-grade paint and techniques. We do all of the prep work and do get the job done right the first time. Just click below to contact us or to learn more about our painting company. East Valley Painters, serving Sun Lakes, Ahwatukee, Gilbert, Chandler, and east valley cities for the past 30 years.