We have read many articles with helpful tips about painting the exterior of your home during the warm summer months. And since we live in Arizona, we are far too familiar with the heat. In fact, we are already seeing triple digits!
So, what should you do if you need to update your home's exterior paint in the Arizona heat?
Prep!
Just like with any paint job, preparation is key. Start by washing off and dirt and dust that is on the surface of the exterior of your home. Once that is clean, it is time to scrape off any old paint that is flaking and peeling off. This is best done by sanding the surface. After the surface is completely clean and ready, always use the primer of your choice. Primer is a must before applying any coat of paint.
Paint!
There are different types of paint to choose from and you should always look at the paint performance properties like the color fade, gloss loss, adhesion and more that will play a factor in your choice. Certain paints work better on specific types of surfaces, but 100 percent acrylic paint works best on many different types of exterior surfaces.
Choosing the color is a crucial choice, especially living in sunny Arizona. Keep in mind that dark colors with end up absorbing more heat and energy. That is why lighter colors are more popular in Arizona. Lighter color paints reflect light, which helps with the durability of the paint film and might even be considered energy efficient since it absorbs much less energy than darker paint colors.
Weather Conditions
Before starting your exterior paint job, there are some weather conditions you need to take into consideration.
Especially on extremely warm days, start your paint job in the early morning. You want to try and not paint when it gets over 100 degrees, which isn't always possible in Arizona. Also, avoid painting when the exterior is getting exposure to direct sunlight. This is another reason to start painting earlier in the day, the sunniest part of the day tends to be between 12-4 and could cause issues while painting. Windy and breezy conditions are never ideal for any paint job. So, when Arizona is experiencing their famous monsoons and haboobs, avoid updating your exterior's paint.
Want to update the exterior and interior paint of your home? Hire residential painters you can trust! East Valley Painters offers a 10-year warranty and we also provide free estimates!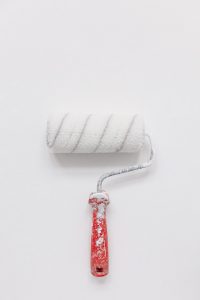 Thinking of painting multiple rooms? It may not be as easy as you think. You will actually need to strategize and plan ahead for a smooth painting process. That means picking which rooms to paint first and which rooms to save for last. Check out this most effective room order for when you want to update the pain in multiple rooms throughout your home.
Bedrooms and Bathrooms
You will want to paint your bedrooms and bathrooms first thing and get them out of the way. This is because you want your bathroom to be available for use and you want to be able to use your broom to sleep in and for a place to go to keep the paint fumes out when you're painting the rest of your house.
Kitchen
The kitchen is another room you won't want to paint first as well. This is because you don't want your food like your fresh produce to go bad and you will still be able to use your kitchen. This means you will not be forced to eat out for days. The kitchen needs to be a room that is easily accessible like your bathrooms.
Living Room or Den
Since the living room or den is going to be one of the largest rooms to paint in your home, it will also be one of the most difficult and takes the longest to complete. You will want to cover your furniture or remove it out of the room completely. This can cause a mess, which is why having your bedroom done before hand is a good idea so you can use it to escape the mess and paint fumes.
Laundry Room
You are going to want to wait and paint your laundry room last. Make sure to wash all of your clothes first and never leave any clothes in the room while you are painting because you never want your clothes to smell like paint. This is another reason why having your bedroom done first will be helpful, so that you can keep your clothes in there while working on your laundry room.
Tip
If you are not choosing to use a safer paint option that cuts down on the paint fumes, you will want to light a candle or open your windows to air out the house and reduce the smell of paint.
Need help with painting your home? East Valley Painters is your go to residential painter for all of your painting needs! Get a free estimate today!

It is a question many of us dread to ask, when is it time to update my home's exterior paint? It isn't a black and white. There are actually several factors to consider.
Everyone wants a home that is up to date and a nice paint job shows a well-maintained home. First, always design a plan and make sure that a routine paint job is your budget before taking the plunge and making the commitment to repaint.
Did you know that different material requires different time frames?
If your home has wood siding, aluminum siding or stucco, try to update the paint about every 5 years.
If your home has cement fiberboard siding or painted brick, try to update the paint about every 15 years. Unpainted brick just needs to be cleaned regularly.
Factors that can impact your exterior paint
Climate
The climate of the area you are living in impacts the durability of the paint. For example, living near the coast will cause paint to be updated more frequently because of the sand and sun damage along with the constant salty air. Ultraviolet rays from the sun can degrade the chemical compounds in the paint. This is why the quality of the paint you use is also important and plays a role in the durability of your exterior's paint.
Different Paint Types
Darker paints will lighten quickly, especially if they are oil based.
Fortunately, the more updated paint options are acrylic latex and happens to be more durable against all of mother nature's elements. This paint will less likely blister, crack or even harden over the years.
Glossy and semi-glossy paints are also durable, but they might expose flaws more easily.
Not only is the quality of your paint important, but so is the quality of the painter and supplies used. Instead of stressing about doing the work yourself, it is a good investment to hire a residential painter to get the job done for you!
Signs you may need to update your home's exterior paint
Any paint damage that includes paint that is faded, peeling, chalking or blistering.
Ready to update your home's exterior paint? East Valley Painter's is your premier residential painter that can provide you with a free estimate!