Tips When Painting Your Walls Dark Colors
Are you wanting to update the paint in your home and want to go bold with dark colors? It might be a scary idea, but it can be done. Dark walls can give off a classy and elegant look, if done the right way!
Pay Attention to Details
Just like with any paint job, the details are important. Imperfections are going to show more when using dark colors, so the job must be impeccable. Ridges caused by drywall tape, nail holes and every other little bump is going to show up. For the best results, start with a smooth surface, meaning you need to texturize. We will give you hints on how to properly do this later on.
Fingerprints and scuff marks are going to show easily after you paint the walls as well. This is why painting a room a dark color can be a challenge, so choose a room that is less likely going to have fingerprints and scuff marks. A nice living room, home office or an adult bedroom is a good place to have dark walls because these rooms require less cleaning and maintenance. Keep in mind that dark walls are going to make a room look smaller, so paint rooms that you want to appear to be cozier and more intimate.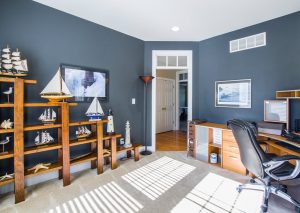 Choose the Right Color
Be smart when it comes to choosing the right color. It is hard work to paint your walls a dark color, so make sure you pick a color that you won't get tired of and will like for a while. This is why you never want to go too extreme and become overwhelmed. Also, extremely dark colors can take away from the details in the room. You might want to experiment first and test out different colors until you find the ideal one. This doesn't mean you have to paint the whole wall. Paint a small area and test out shades before making the big commitment.
Prepping Your Walls
Once you find the right room and the right color, it is time to prep the walls! This is where you are going to add texture to hide defects. You can either buy your own supplies to do this job yourself or you can hire a professional painting company like East Valley Painters to ensure the job is done right.
If you are going to do the job yourself, remember to texturize your walls and then prime them. Before starting this, make sure to tape off areas that you aren't going to paint for a smooth finish. Remember to use more than one coat of paint. With dark colors, you may even need up to 3 coats, but a high quality paint will limit the amount of coats you need. Always make sure that you are spreading out the paint evenly and use a small paint brush to fill in the areas around the tape.
Helpful Tip: If you are going to be painting a room with a low ceiling, paint the trim the same colors to add depth and make the walls appear taller.
If you'd rather leave this one to the pros, or have questions about warranties or an upcoming painting project, just click below to contact us or to learn more about our painting company. East Valley Painters, serving Sun Lakes, Ahwatukee, Gilbert, Chandler, and east valley cities for the past 30 years.