Learn about the top four home painting myths and how East Valley Painters provides high-quality service

From embellishing the latest interior painting trends to giving an exterior painting tip that is clearly false, there tend to be a handful of misconceptions or myths about interior and exterior painting trends.
So, we wanted to share the top four myths we have heard about painting trends and tips.
1. Interior Painting Myth: Dark Colors Make Rooms Appear Smaller
Because of this misconception, many are afraid to use dark shades on the interior walls of their home. But, don't be afraid to use those dark hues. Especially this year, when dark shades of green are all the rave.
It really all depends on how you use dark colors in rooms, but the truth is, they can actually help open up rooms. Dark accent walls are ideal to help open a room up. For example, dark colors can help larger rooms feel smaller and cozy. Plus, accent walls are always a great way to try a new color, such as a deep dark forest green.
2. Interior Painting Myth: High Gloss Paint is the Most Durable
There are many types of paint out there. High gloss paint has always been thought to be the most durable type of paint. It used to be the best choice to use in high-traffic areas such as hallways, bathrooms, and kitchens since it is relatively easy to clean off. However, high gloss paint spotlights any imperfections, and it isn't the easiest to paint over.
And now, with all the new technology, this means we have better paint products. Most of the high-quality paint products come with a feature to resist stains and scratches.
3. Exterior Painting Myth: You Shouldn't Update Your Home's Exterior Paint Before Selling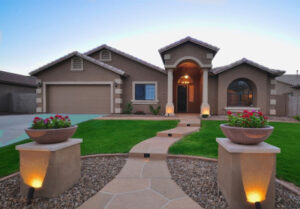 We are shocked to see this myth out there. We have done many blogs where we mention that updating the exterior and interior paint of your home before selling is never a waste. In fact, many studies show that doing this helps sell your home faster and can increase the selling price.
Updating your home's exterior paint not only adds value to your home, but it also adds value to your neighborhood; this is known as curb appeal.
4. Interior Painting Myth: Using a Primer is Optional
Primer is never optional when painting the interior walls of your home. Primer is used as the foundation, sealing the surface and helping give that professional look. Of course, just because you use primer, the walls still need to be cleaned before a paint job. For the best paint job on interior walls, a thorough cleaning job on the walls needs to be done. Then, apply the primer. The primer will adhere to the clean walls; then, the paint will adhere to the primer.
True: Use a Professional Painting Company to Save Time and Money
Working with a professional painting company saves time and money. In fact, doing the job yourself can cost you 4x as much.
Ready to use a professional paint company? Call up East-Valley Painters to schedule a consultation today. We use only professional-grade paint and techniques. We do all of the prep work and do get the job done right the first time. Just click below to contact us or to learn more about our painting company. East Valley Painters, serving Sun Lakes, Ahwatukee, Gilbert, Chandler, and east valley cities for the past 30 years.