Has your office just spiced up its commercial building's interior walls with a fresh coat of paint? With so many people returning back to work, many businesses are updating the interior of their offices with newly painted walls.
Of course, you want to keep it looking fresh as long as possible. Luckily, we have some easy ways to help maintain the paint on the interior walls.
Get The Job Done Right
It all starts with getting the paint job done right from the start. For such a big task such as painting the interior walls of a commercial building, turn to the professionals. East Valley Painters has the experience and skill to get the paint job done right. We use only the highest-quality paint and the best painting techniques to protect walls from cracking and peeling.
Protect The Walls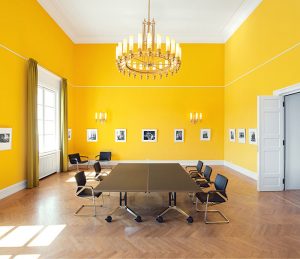 Add extra protection to the walls once the paint job is complete. This means doing your best to prevent added damage to the paint and walls from things in the building, like door stoppers, which are known to scratch the paint right off walls.
Start by carefully arranging furniture so you can limit the amount of furniture up against the walls. If you are placing chairs or tables against the painted walls, add rubber or cloth buffers to prevent leaving any unwanted marks or scratching the paint off. Remember, the quality of the paint used is going to be the first layer of protection.
Keep The Walls Clean
It also helps to keep the walls of the building clean. Dust can actually lead to discoloration of the walls, so it is a good idea to not only dust the walls regularly but also get a professional cleaning done at least once a year.
Make sure to also dust any items hanging on the wall, too!
By using East Valley Painters to add a new coat of paint to keeping the walls clean, you can help extend the life of newly painted walls in your commercial building!
Just click below to contact us or to learn more about our painting company. East Valley Painters, serving Sun Lakes, Ahwatukee, Gilbert, Chandler, and east valley cities for the past 30 years.