Preparing Your Painting Projects for Monsoons
If you plan on renovating the exterior of your home and updating the paint this summer, make sure you know what to do if a storm is heading your way!
Tis the season for monsoons…and here are some helpful tips to keep you painting your home's exterior even during this summer's storm season.
Pay Attention to Weather Patterns
We are pretty lucky in Arizona as we usually have plenty of sunshine which doesn't impact exterior painting. But during the summer months, we do see an increase in storms.
Look at the weather forecast and always be in constant contact with your painting company during a project.
Since we see triple digits during the summer, it is best to always start your painting project early, so you are done before the heat hits. This is all beneficial because storms usually hit later in the day as well, so you will be missing those monsoon storms.
When checking the weather, look at the dew point. Avoid exterior painting in Arizona if the surface temperature is NOT at least 5 degrees higher than the dew point. The surface area of what you are painting needs to be dry and clean to avoid any water spots to form, especially when using darker paint colors. Remember, the paint will only adhere to dry surface.
Dust, Rain, & Wind
Dust, rain, and wind can all wreak havoc on your home, especially in the middle of an exterior painting project.
Clean down your house from any dust that might have it the night, but remember that your home needs to be dry before painting. At least it shouldn't take too long in this heat.
If excessive wind and haboobs (dust storm) are in the forecast, you might want to put the project on hold because wind can cause the paint to dry too quickly and dust particles could impact the finish.
Lots of moisture weakens the adhesion of the paint, causing it to peel off easily. Color discoloration can also occur if water is present. And rain can wash away paint that is still drying, reducing the life of the paint and causing a streaky appearance.
There are limitations to exterior paint application in rainy weather. We don't see rain that often here in the desert, so it is best to just hold off on your project until the storm passes. Since the surface needs to be completely dry before painting, keep in mind that sections hidden from the sun will take longer to dry.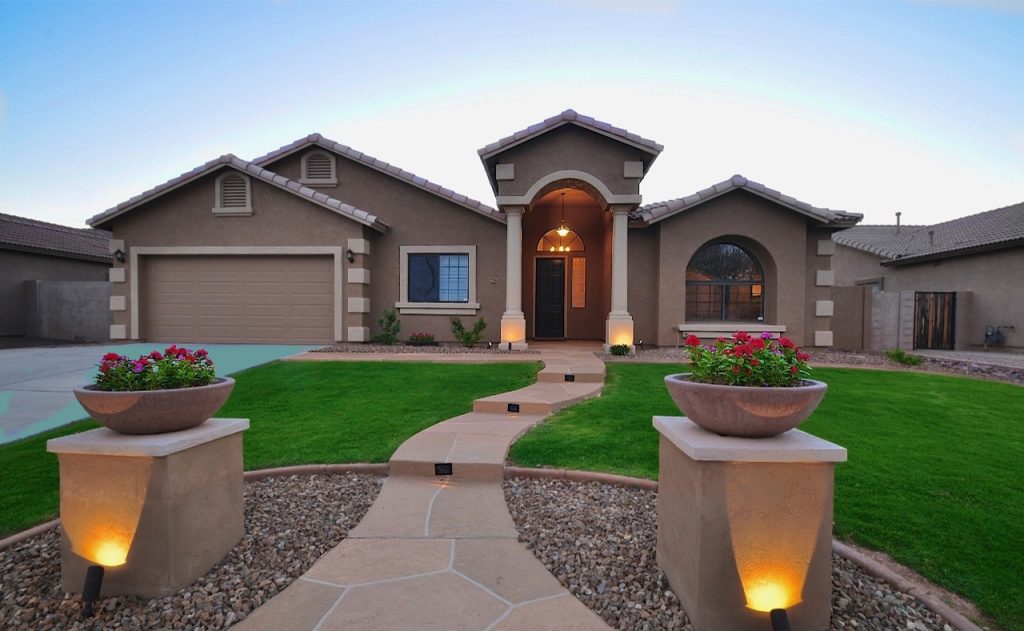 Quality Paint
Good quality paint is key. Acrylic and latex paint are water-based paint and are best to use on the exterior of your home. These types of paints also don't trap moisture beneath the paint. This will lead to less of a chance of the paint cracking and peeling.
Working with the Professionals at East Valley Painters
If you'd rather leave this one to the pros, or have questions about warranties or an upcoming painting project, just click below to contact us or to learn more about our painting company. East Valley Painters, serving Sun Lakes, Ahwatukee, Gilbert, Chandler, and east valley cities for the past 30 years.