Choosing the right paint finishes and colors for hallways, kitchens, and more

Maintaining the painted walls in high-traffic areas of your home can seem like an impossible task. But using the right paint finish and colors can help keep the busy areas of your home looking fresh without much work. That is because certain paints are specifically designated for high-traffic areas!
High Traffic Hallways And Living Rooms
Hallways and rooms such as living rooms see lots of movement. There are a couple of different paint finishes to go with. The more popular options are pearl or satin. A pearl finish leaves a soft and luminous shine.
A stain finish, also known as eggshell or semi-gloss, appears smooth. This finish leaves an almost velvety look, which hides imperfections easily. It also makes it effortlessly to clean. The satin finish is one of the most durable, which gives it excellent resistance to scruffs.
What about paint colors for this high-traffic area? If you want hallways and living rooms to feel longer, but still be able to hide any smudges, go with lighter colors. Lighter colors as in off-whites, beiges, and soft grays.
High Traffic Kitchens And Bathrooms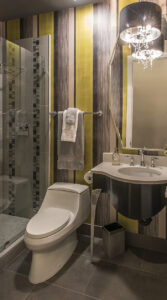 For busy kitchens and bathrooms, a gloss paint finish or a semi-gloss finish is recommended. These finishes leave a mirror-like appearance that is sleek and polished. The higher the shine, the easier the clean!
Plus, higher shine finishes reflect more light than any other so they hide imperfections better, looking more fresh. Another benefit of a more glossy finish is that they are more resistant to moisture, which increases durability in locations like the kitchen and bathroom.
When it comes to paint colors in these high-traffic areas, it is a great time to experiment. Darker paint color adds depth and sophistication. But they still concede scuffs. Colors like navy blues, deep greens, and charcoal gray can be a nice addition to kitchens.
Are Your Home's High Traffic Areas In Need Of A Paint Upgrade? East Valley Painters Can Help!
Ready to upgrade your home's high-traffic areas? Call up East-Valley Painters to schedule a consultation today. We use only professional-grade paint and techniques. Just click below to contact us or to learn more about our painting company. East Valley Painters, serving Sun Lakes, Ahwatukee, Gilbert, Chandler, and east valley cities for the past 30 years.