Both services require an experienced professional painter.

At East Valley Painters, we offer commercial and residential painting services. But what are the differences between the two? An experienced painting company understands what is needed to complete a commercial paint job and a residential paint job, plus knows the differences between both projects.
What It Takes To Complete Commercial Painting Services
A commercial painting service includes painting a commercial building like an apartment building, hospital, school, or office building. It usually ends up being a large painting project.
Since it is a larger painting project than most, it requires more workers, more equipment, and more time to get the job done. A commercial paint job is more complex because of the increased square footage.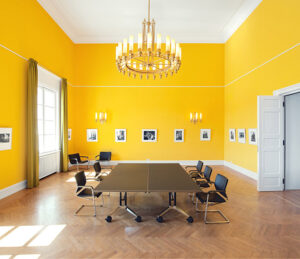 During commercial paint jobs, special equipment in an industrial setting like pressure washers, paint sprayers, lifts, and industrial-grade paints are used. These materials are different from what is used during residential paint jobs.
Another challenge with commercial painting is getting the job done around employees, customers, inventory, and workspace environment. Working with professionals like East Valley Painters, the job will get done properly, respectively, safely, and efficiently. The best way to do it is to try to do all the heavy lifting after hours or on the weekends when it is no longer busy in the workspace.
What It Takes To Complete Residential Painting Services
A residential paint job is done on a person's home but includes interior and exterior walls, cabinets, decks, and trim.
These projects are much smaller than commercial paint jobs and take much less time and require fewer workers. Professionals at East Valley Painters can do the job when it is convenient for the homeowner and will get the job done while respecting the privacy of the family and guests in the home.
Equipment used includes smaller paint brushes, rollers, paint trays, and items that help paint smaller and more precise spaces. The type of paint is usually different than used in commercial paint jobs and the variety of colors is greater. Homeowners are more selective and want the paint color to fit well with their home and décor.
The Main Difference Between The Two Is The Size And Scope Of The Job
So, the main difference between commercial and residential paint jobs is the size and scope of the job. Both jobs require a professional painting company. But residential paint jobs require less work and less time to complete. Homeowners have more color options and different paint finishes to choose from as well. Commercial paint jobs require more equipment and a larger crew, resulting in more time to complete.
Get a Free Estimate from East Valley Painters
Ready to update the paint of your commercial business or residential home? Call up East Valley Painters to schedule a consultation today. We take pride in using only professional-grade paint and techniques. Just click below to contact us or to learn more about our painting company. East Valley Painters, serving Sun Lakes, Ahwatukee, Gilbert, Chandler, and east valley cities for the past 30 years.
Photos Source